Tony Palmer's legendary film of Tangerine Dream's 1975 UK visit has a troubled history.  What should have been a fantastic document of a unique event ended up being a bit of a botch under the watchful eye of Richard Branson, when an executive decision was made to pair the visuals with (then) previously unreleased music, regardless of what was played at the show itself.
A new 'Director's Cut' DVD finally married the images to the correct soundtrack, but a super-deluxe box set for 2019 goes a step further.
With the best visuals and correct soundtrack on DVD, plus bonus footage and a selection of memorabilia, the new edition of 'Live At Coventry Cathedral is the ultimate collectors' item for Tangerine Fans.
Pre-orders are now being taken from the Burning Shed webstore:
https://burningshed.com/store/gonzo/tangerine-dream_live-at-coventry-cathedral-1975_boxset
Further details can be found in the below press materials.
***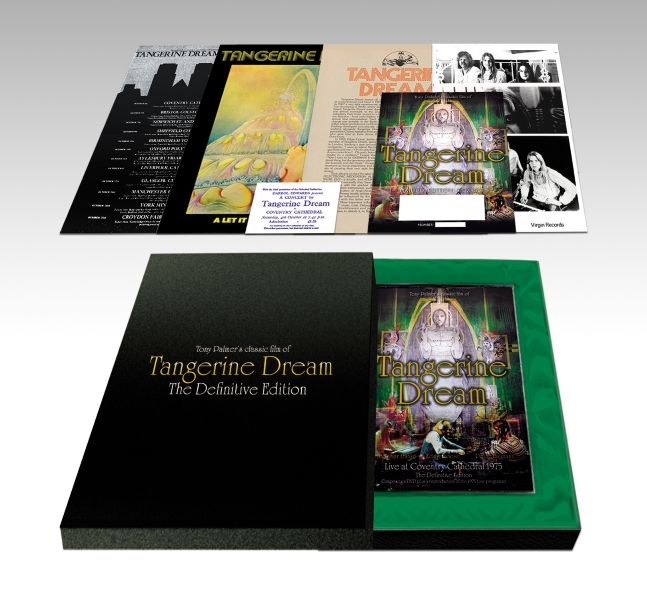 Tony Palmer & Tangerine Dream "Live At Coventry Cathedral 1975" Deluxe Box Set Now Available For Pre-order
An exclusive box set of Tangerine Dream's "Live at Coventry Cathedral 1975" filmed and directed by Tony Palmer.
London – In December 1974 Tangerine Dream were invited to play in the grand setting of Rheims Cathedral, a move certainly seen at the time as groundbreaking. They were then invited to perform in the cathedrals of York, Liverpool and Coventry. The tour attracted unprecedented coverage in the media, especially at Coventry Cathedral, an iconic building rising like a phoenix on the ruins of the old cathedral bombed to bits by the Germans in 1940 (Tangerine Dream is, after all, a German band) as a celebration of peace and reconciliation, as well as a lasting showcase for great contemporary art.
The nave is dominated by a gigantic tapestry by Graham Sutherland, the main door dwarfed by a sculpture of St Michael & The Devil by Jacob Epstein, and the consecration in 1962 heard the first performance of Britten's incomparable War Requiem. To their lasting credit, Tangerine Dream contributed to this celebration.
This DVD features the live recording soundtrack (unlike the previous issue), and also contains footage of Tangerine Dream from the legendary music programme, All You Need is Love. It will be welcomed by the massive Tangerine Dream fan base, and also seen for what it is – a meeting of cultures and for a brief moment in time, a time where the past met both the present and the future.
This deluxe box set brings together both the film DVD and memorabilia together for the first time, along with a signed and numbered certificate by Tony Palmer the Director.